The doorbell rings, and I go to answer the door, but alas, an extension cord running to my husband's computer monitor is prohibiting the door from fully opening. Two large LEGO sets adorn the usually clean and tidy custom-designed buffet unit in the dining room. Every pillow, blanket, and end table is strewn about the formal living room, which now resembles a scene from Animal House. A pop-up tent occupies the basement, along with half-completed art projects, dirty socks, a makeshift salon, and a Nerf gun shooting range. If I find one more errant blue styrofoam bullet, mama's going to lose it!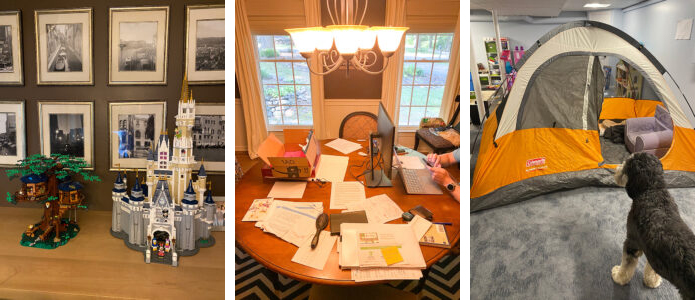 Unfortunately, this is the scene at my house every. Single. Day. I like to think of myself as a very organized person; however, my husband, two kids, and dog don't feel nearly as strongly about tidiness as I do. If only I could hire someone to come in, assess our needs, and develop a strategic plan to help make sense of this madness and chaos. Where does one go to find such a unicorn?
If you are feeling overwhelmed by the rubble of toys, office supplies, school projects, and computer equipment that has entered your home, you are not alone! Statistics show that over 5 million Americans are currently working from home, and that number is on the rise. This does not take into account the millions of kids, teens, and young adults who will be learning virtually from home in 2020/2021. We have been forced to live, work, learn, and oh yeah, eat, drink, and be merry all in one place. As much as you are working from home, is your home working for you?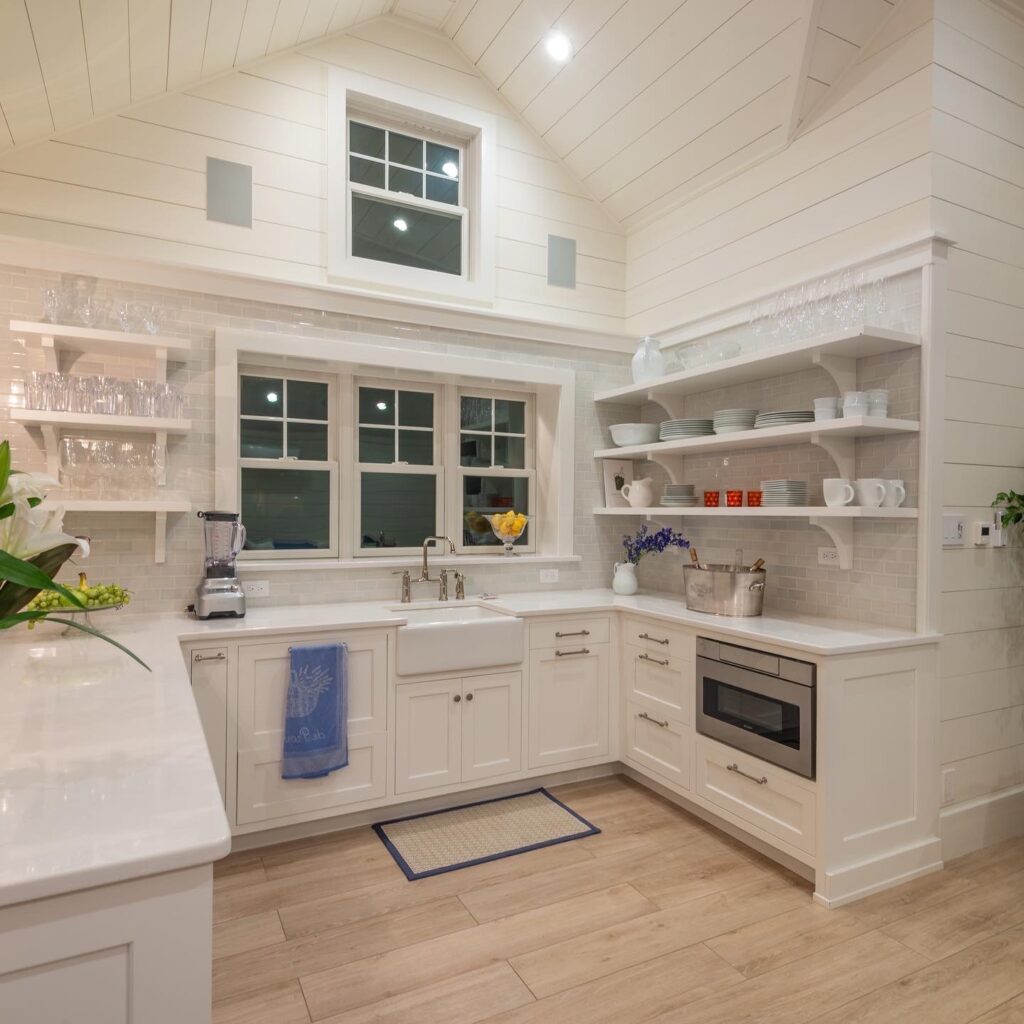 During the past few months, you may have noticed flaws in your home that were once a nuisance but are now nagging. Maybe your kitchen cabinets don't open and close properly and have a tendency to fall off their hinges. Or your favorite spot on the sofa has cushions that have lost their spring and are visibly sagging and misshapen. And the slow but steady drip, drip, drip of your leaky shower head is driving you insane. In the past month, we have received dozens of phone calls from people saying the same thing, "We need our house to function for this new way of living." As an interior designer, it is my job to understand the needs of our clients, learn about how they live, and create a solution to solve their biggest design problems. Today, interior design is just as much about functionality and practicality as it is about beauty. If any of the above statements ring true, it might be time to enlist professional help by hiring an interior designer.
It seems as though the once temporary work-from-home/learn-from-home situation is taking on a more permanent role. An interior designer will take the brunt of the work off your shoulders and will plan the space with meticulous care. They also have connections with trades and vendors and will help keep your job on track and within budget, steering you clear of making costly mistakes and bad decisions in the long run.
If you want to tackle some projects on your own, we've got you covered. To aid in solving some of the biggest design conundrums today, here are seven tips that will help make those rooms magically work for you and your family.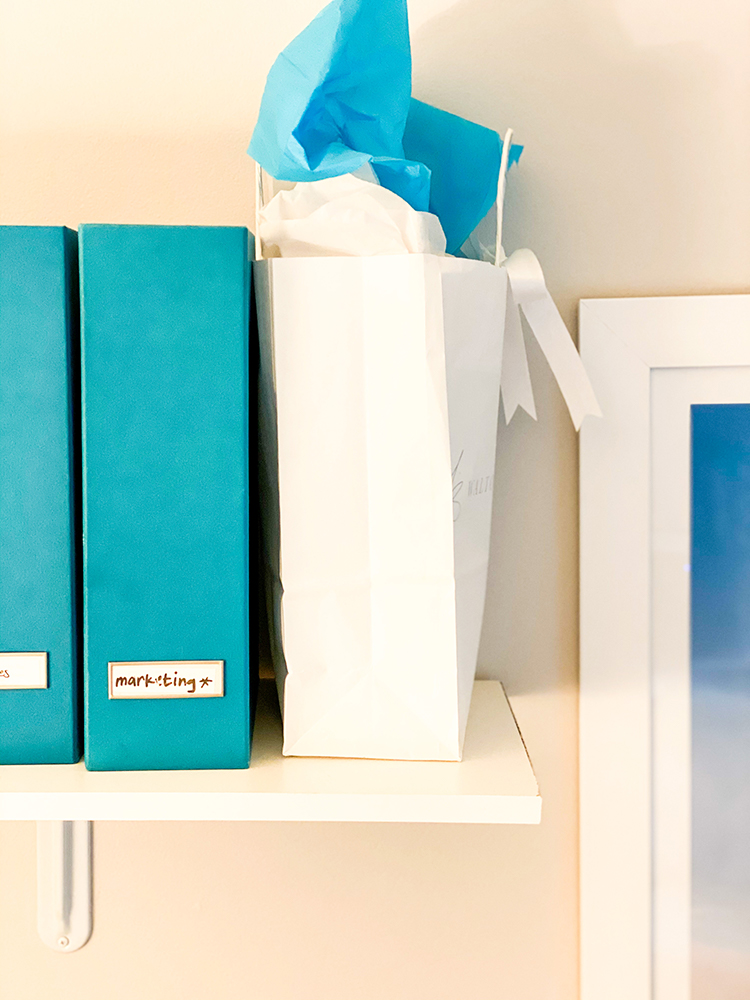 1. 
Open Shelves
A great way to utilize every square inch of usable space is by installing shelves. Shelves don't have to be deep. Some of the most functional storage are shallow shelves, 6 inches – 9 inches deep, because you are able to see everything on them, and there is no room for items to get lost in the back. Oftentimes, we incorporate shallow storage in our kitchen renovations, because they provide the perfect storage for canned goods, cereal boxes, sippy cups, and so much more! Shelves make good homes for art supplies, office supplies, and file folders. Most books fit on units that are just 12 inches deep. Great spots for this type of storage include but are not limited to kitchens, the end of hallways, an upper level landing, and above windows and doors. Shelves are also a solution to help get clutter off the floor and tucked away.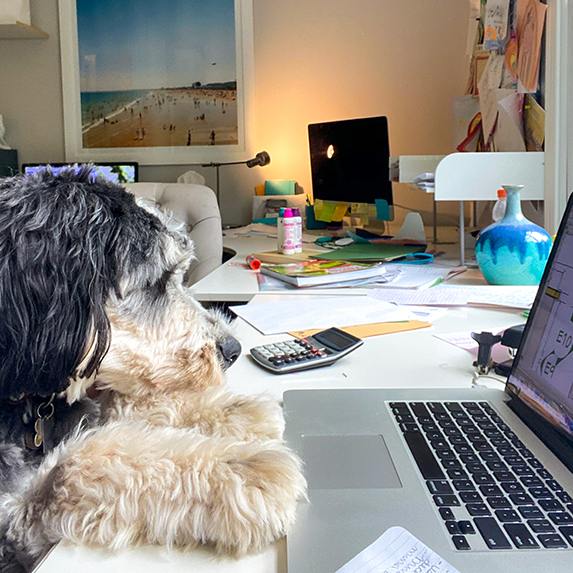 2.
Learning Lab
With more kids learning from home, dedicating space in their bedroom for school and homework is a must. A small desk with a whiteboard above listing daily tasks and weekly schedules will help keep you and your child on task and on track. It is important to involve your child in this process so they feel their needs are being taken into consideration. They also will be much more likely to use that little nook if they have a say in how it looks.
3.
Twice as Nice
Make your guest room double as a hangout or office space so that it functions for you on a daily basis. To achieve this, think about incorporating a Murphy bed to free up floor space, and add furniture that has dual purposes. For example, a nightstand can store books or office supplies, and a comfortable side chair can double as an office chair. Lighting is key when trying to get work done, and an oscillating lamp with an arm is a great solution. In a living room, look for an ottoman that doubles as storage for toys and games, or have small ottomans tucked underneath the coffee table for additional seating.
4.
Window Wonder
The space under a window is prime real estate when maximizing storage, so don't waste it! A window seat with a built-in cubby or lift-up bench makes a cozy seating area, adds lots of charm to a room, and provides plenty of space for seasonal items not used on a daily basis.
5.
Working Walls
To maximize counter- and tabletops, consider installing wall sconces rather than using lamps. Wall sconces add a lot of character and free up valuable space. Another trick: prop a display ladder vertically against the walls to creatively display blankets and throws.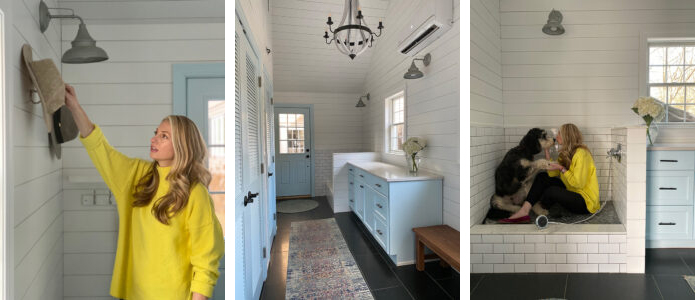 6.
Point of Entry
Clear your entryway or mudroom space by adding hooks to hang coats, hats, dog leashes, backpacks, keys, and more. Install a shelf and mirror above to help make the space feel larger and filled with light. A floating bench seat is helpful for putting on shoes and boots, and as a bonus, is the perfect place to store everyday items such as shoes, sandals, hats, and gloves. If you don't have space for a mudroom area, try placing an attractive dresser at your front entry to hold the above mentioned items without sacrificing charm.
7.
Creative Closets
Many of our closets serve as a catchall for all sorts of odds and ends. Think of your closet as your personal assistant. Take stock of what items should be in each closet and organize it accordingly. Items used on an occasional basis should be stored up top and heavier items down below. The more organized and pretty your closet it, the more apt you will be to use it and put things where they belong.
We're all doing the best we can, and at this point, anything goes. If you have a really tricky space in your home that is driving you nuts, do yourself – and your marriage – a favor and hire an interior designer. Chances are, he or she will have a really creative solution and will take the guesswork and aggravation out of implementing those plans. Your designer can handle the hundreds of phone calls, construction and contractors (if necessary), paint, and rugs, as well as the logistical nightmares of ordering, tracking, and delivery. And if hiring an interior designer is not feasible, I hope the above tips give you the confidence to tackle some of your home projects to make your life a little more organized and a lot more functional.